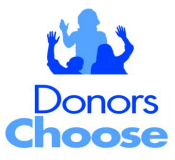 If you've never heard of Donors Choose, you should head on over to
donorschoose.org
for a minute and check it out. This organization allows donors to connect with individual classrooms in need of funding for all kinds of projects, from simple paper and office supplies to funding for entirely new programs and much more.
Next, head on over to
Fun Finds for Families
to browse through a few projects in need of funding, and choose one to receive a $75 donation from FFfF, Savings.com and DonorsChoose. No cost to you, and you can make a huge difference to a classroom in need. Use the form in the post to vote once, voting closes Feb. 8th.
Feeling generous?
Savings.com
will help you DOUBLE your donation up to $100 when you use the code "SAVINGS" when going through donation checkout from now until Feb. 24th. It can be any project, but the link will take you first to their Giving Page.
Trust me, even a small donation can make an enormous difference. Many programs ask less than a hundred dollars- donate $5, use the code, and you've just funded over 10% of their program! My cousin is a teacher in NYC and has used this organization to help fund his classroom and your support truly does matter.

Please help children in need by sharing this opportunity! Use any of the buttons below.